Our sweet Brooklyn is 5 months old. I think now would be a great time to just freeze time. She is so cute and fun I just want to have her in this moment for as long as possible. She has learned so much this past months and always amazes us with everything she is learning to do. We had some great adventures this last month. Probably the busiest of her life so far. She has the sweetest disposition and is growing in to her personality more everyday. We are so luck to be her parents. The first 3 months of Brooklyn's life were hard on me...my advice would be to not have winter babies while living in a basement. Rough. Anyways, the reason I bring this up because of how much I am enjoying motherhood. My body has done most of its recovering, she has grown out of most of her acid reflux problems, it isn't winter, she is growing so much, etc. All I know is everyday spent with her is a blast. Derek and I always get so sad when we put her down for bed that right before we fall asleep we look at pictures of her. She is our angel.
Here are some of the things she has been up to this past month:
She loves her feet! She started discovering them at the beginning of May and just can't get enough of them.

She now sleeps in her very own big girl room. Now that we've moved we thought it would be a perfect time to move her in to her own bedroom. We are enjoying the fact that not every sentence has to be a whisper.

She went for her first swim in Grandma and Grandpa Power's pool. It was cold but she didn't mind it too much. (5/17/2013)

She took her second airplane ride and first family vacation. We headed to Newport Beach to celebrate Derek's graduation and spend some much needed time together.

On May 28th she rolled from her back to her stomach...while swaddled. So right before I head to bed one night I hear her start to fuss. I give her a little before I go check on her. Finally I decided to go see what the matter was. She has somehow managed to flip from her back to tummy and turn herself a 180 degrees all while she was tightly swaddled. Poor girl was so tired that she didn't want to lift her neck up anymore and couldn't flip back over without her arms. I picker her up, hugged her, and laid her right back down to sleep. My silly little girl. Now she's pretty good at rolling on to her tummy. She's always trying to grab at something.

She went to the beach for the 1st time (more on our trip in another post)

We gave her a little taste of solid food on May 26th. She kept grabbing at my food during Sunday dinner so my mom mashed up a steamed carrot and we gave her a little taste. At first she didn't seem to mind but the next bite you could tell she wasn't a fan. ha I guess we'll start with some pureed food next month.

Ok what impressed me so much is that she's become a little inch worm. She lost her toy the other day and started to come up on her knees and push herself forward to try and find it.

She is ticklish in her armpits. I think it's pretty darn cute.

She can sit up, on the bed, for a good 10 seconds. We practice a little bit each day.

She will put anything in her mouth and loves to suck on ice cubes. She also loves tags so much. They are so fascinating.
Basically we just love her so much. I am finally to that stage where I feel she is growing up too fast and just want her to stay this way forever. So amazed by everything , so full of love and excitement. I was brought to tears the other week as I thought about how fast my little baby is growing. She's the best.
Ok so time to check out some pictures of our cute Baby B.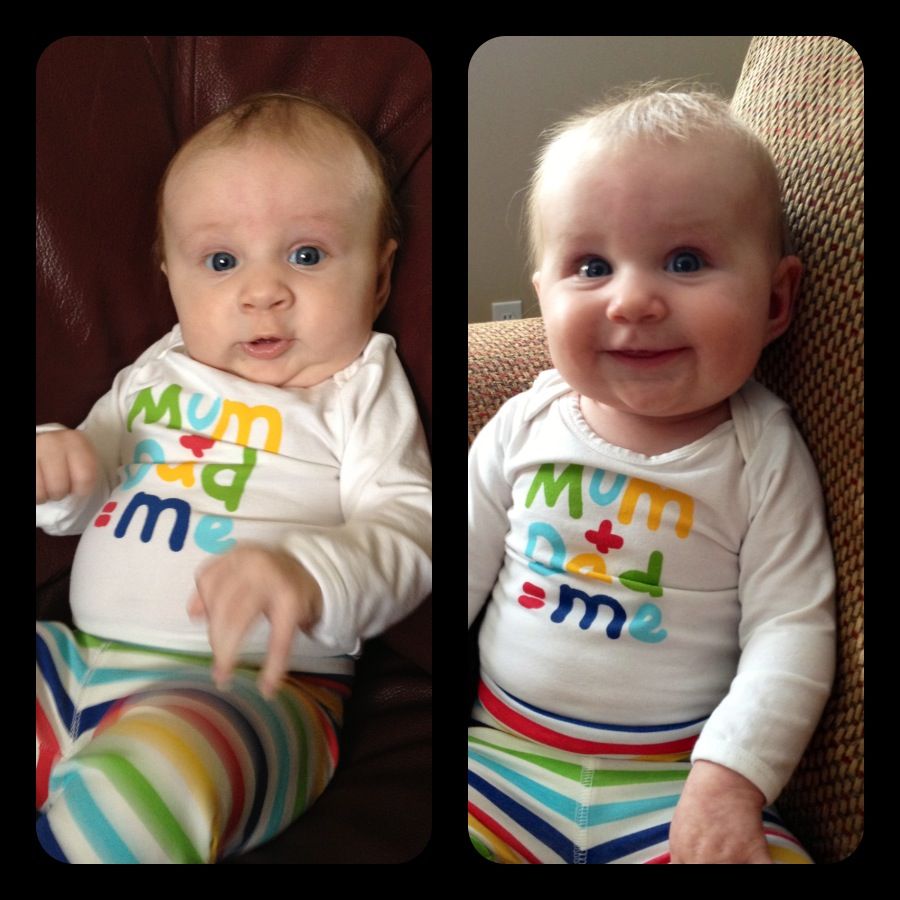 Here she is at 2 months and almost 5 months What a difference!
Derek's caption: Don't go there girl frien'!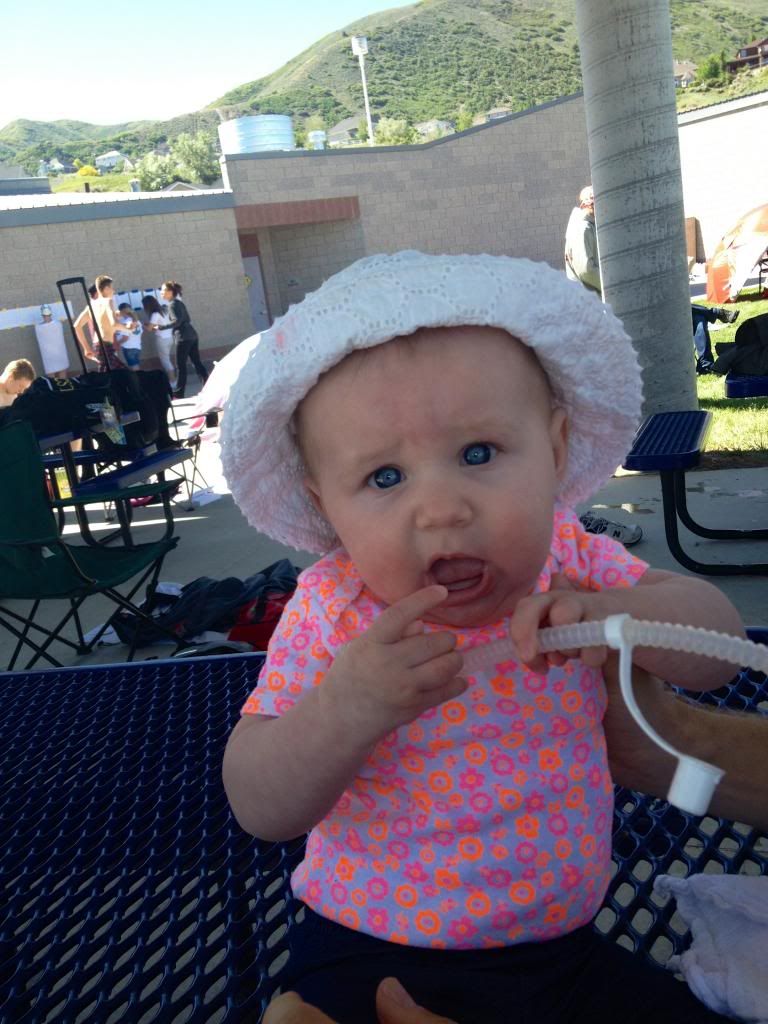 Love sucking on my water bottle straw
Having fun at Uncle Nate's swim meet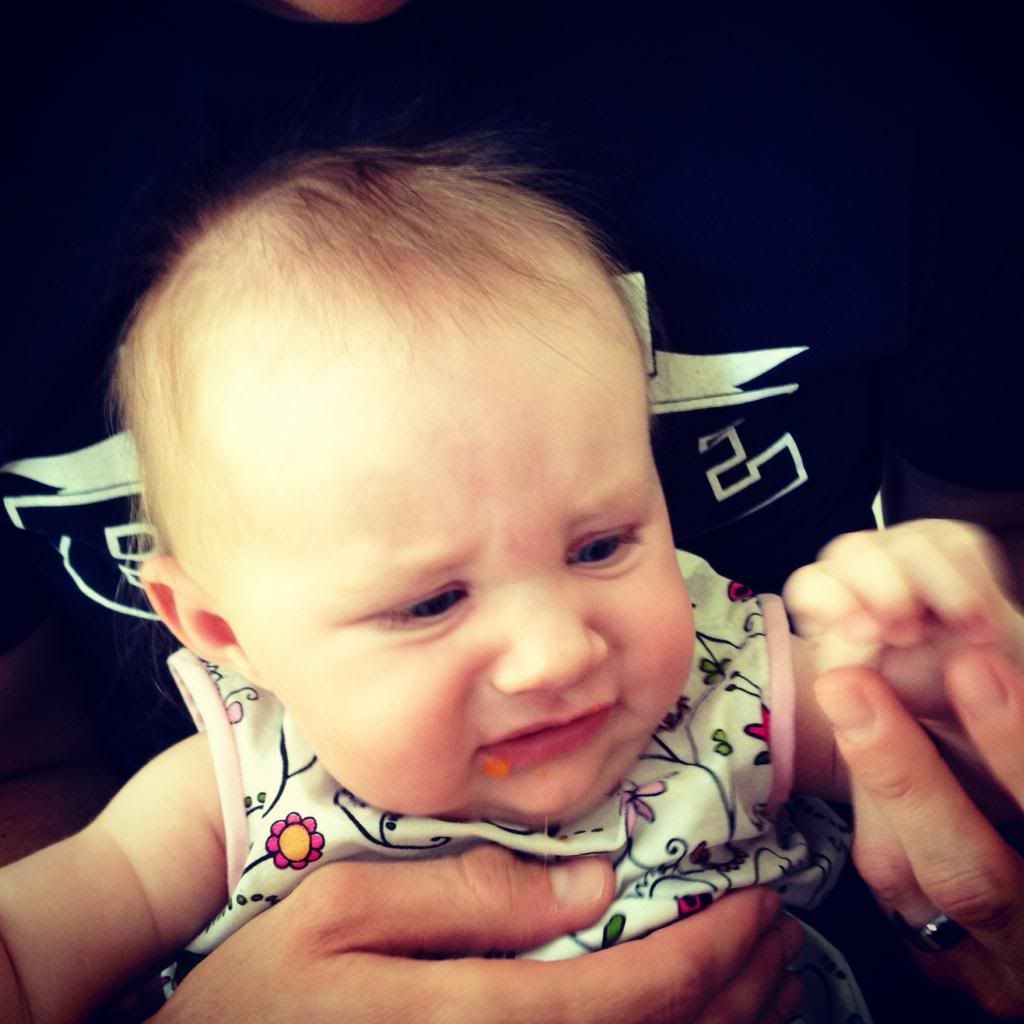 Gross! Carrots.
Derek's caption: Hey Lady, watch it. I'm dirivin here!
Loves story time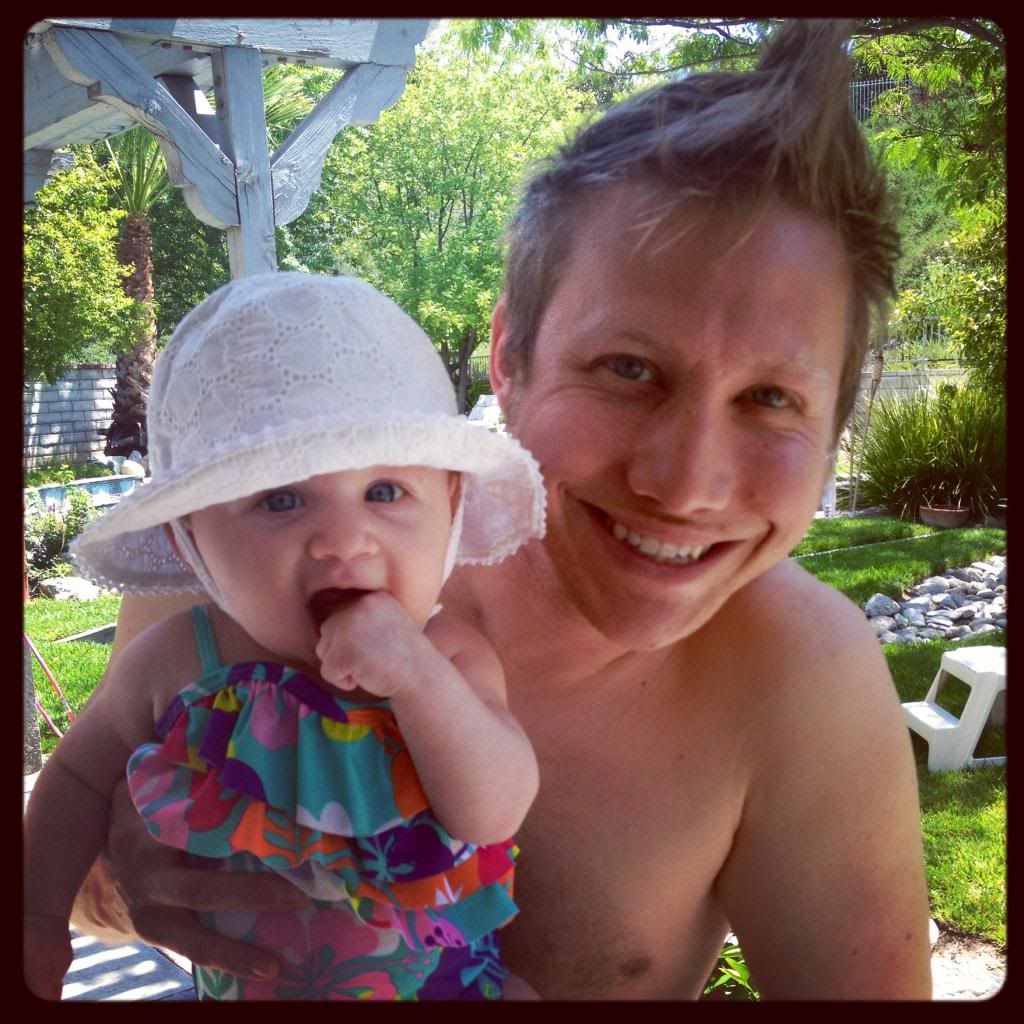 Right before her first swim
First time on a swing. Love their matching expressions.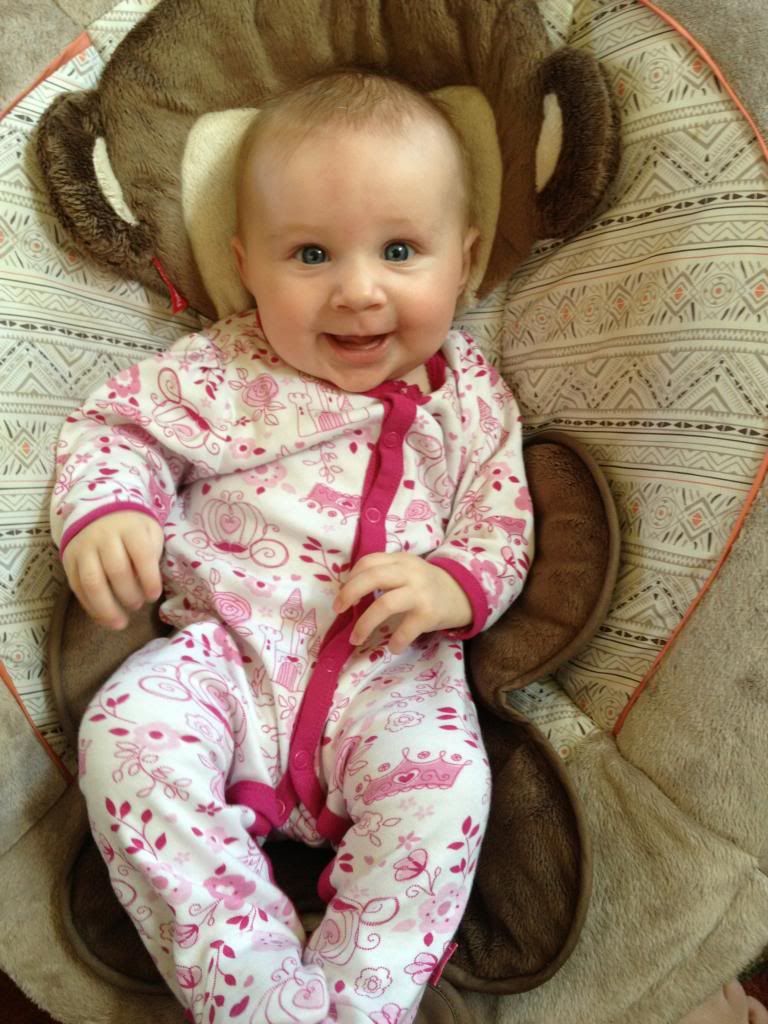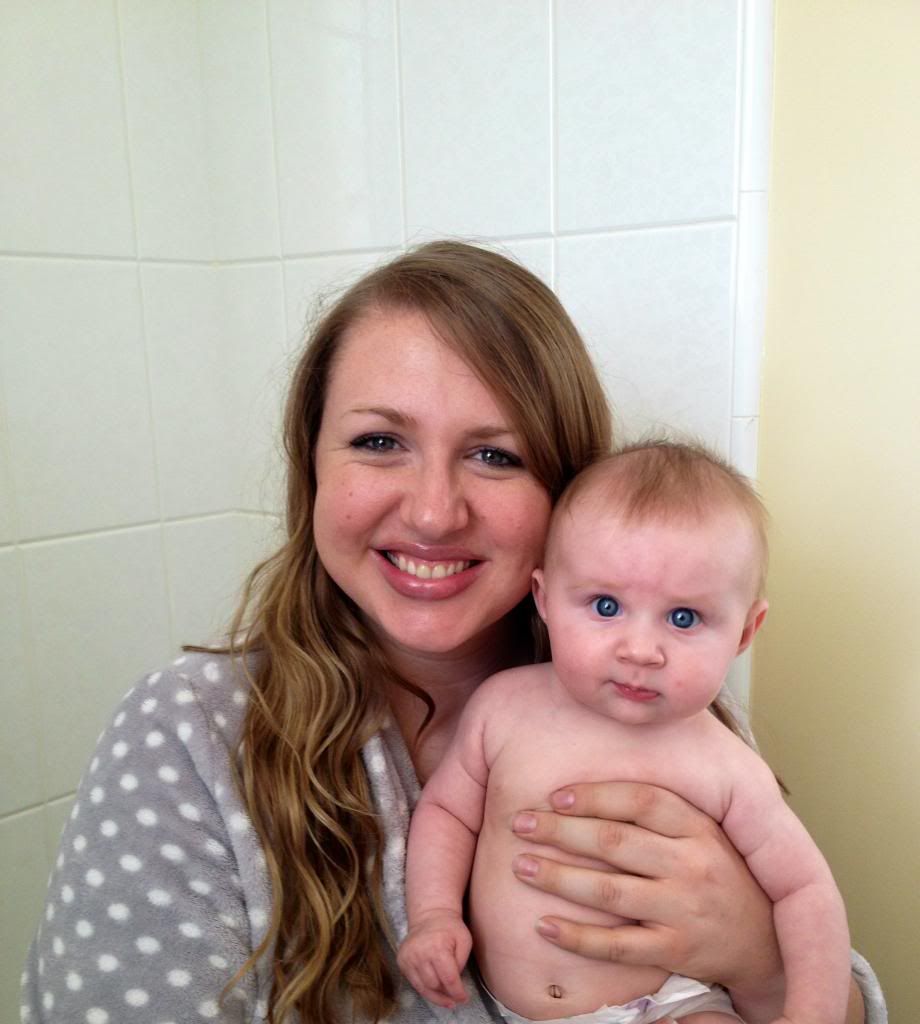 Taken on my first mother's day right before her bath time. Love this girl!
Loved watching Uncle Nate play basketball. She couldn't take her eyes off of them.
She sure does love being outside.