Our sweet girl turned 2 months old on Sunday, March 3. She had a lot of family in town as that is the day we blessed her (more on that in another post). Derek's whole family came to town and we had everyone from my side expect for Scott, Kim, Addie, and Bennett. They truly were missed.
Brooklyn is such a happy girl. We took her to the Drs yesterday and she came weighing in at 11 lbs 11 oz (75%) and measuring 23.5 (90%) inches long. She's put on 4 pounds since birth and I couldn't be more proud. I guessed her height exactly on and was only 2 ounces off on her weight. I sure do know my baby girl. Here are some of our favorite moments over the past month. Brooklyn you are: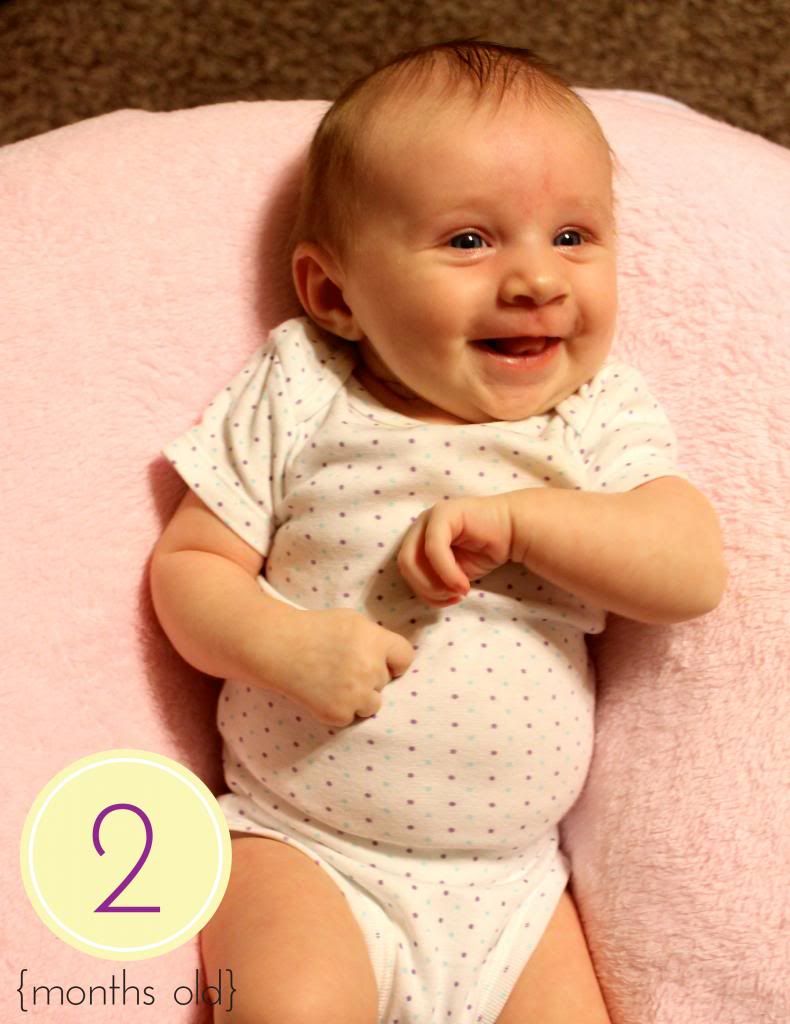 Quite the smiler. You always have been but they are just too much fun now. I love it when she looks right at me and gives me a smile. I feel so loved.
You love playing with your dad. Some of your favorites are the space ship and choo-choo train game.
A champion at holding your head up. Such a strong little girl.
You have found your hands and can't stop sucking on them. I think it's adorable.
Loving your nightly baths and if you haven't received one by 7:30 you start to get fussy. I have learned not to procrastinate your bed time routine any more.
Making so many new noises and they are so cute. I love our conversations. You have so much to say.
Loving walks with mom.
Loving your play mat. You can't get enough of all those fun toys. You can play under there for a long time while mom gets dinner ready. We are loving it.
You hated shots but what baby doesn't? I think you were more brave than me. We both had a nice cry that morning. Thank goodness Dad and Aunt Jamie were there to help.
Whenever you receive anything out of a dropper (vitamin D or vaccines) you throw up. It's not my favorite thing to see you go through but you're a girl who knows what she likes.
Turning your head when you hear your dads voice. You love to greet him with a smile and lots of talking when he gets home from work or school. It really makes his day.
Loved by everyone who meets you. You have some great aunts, uncles, and grandparents who love to play with yo, take care of you, hold you, and make you smile.
A great sleeper! I thank you for that. Most of the time you are sleeping through the night. We put you down at 9:00 and you usually wake up around 6:30/7:00. Sometimes if you're especially hungry you'll wake up around 2:30/3:30 but I don't even mind. I feel like I am getting tons of sleep now compared to when you were first born. Thanks for being an excellent napper as well.
Such a happy baby!
Derek and I feel so blessed everyday that you are our little miracle girl. We cherish every single moment with you and can't believe how fast you are growing. You amaze us every single day as you develop new sounds, tricks, and talents. Thank you for being such a wonderful little girl.
Just for fun a couple other pictures of our sweet little 2 month old:
{Dressed in your Sunday best}
{Ready for our walk in the freezing weather!}
{Sucking on your hand}
{Love your smile}
{Daddy got some big smiles out of you this afternoon}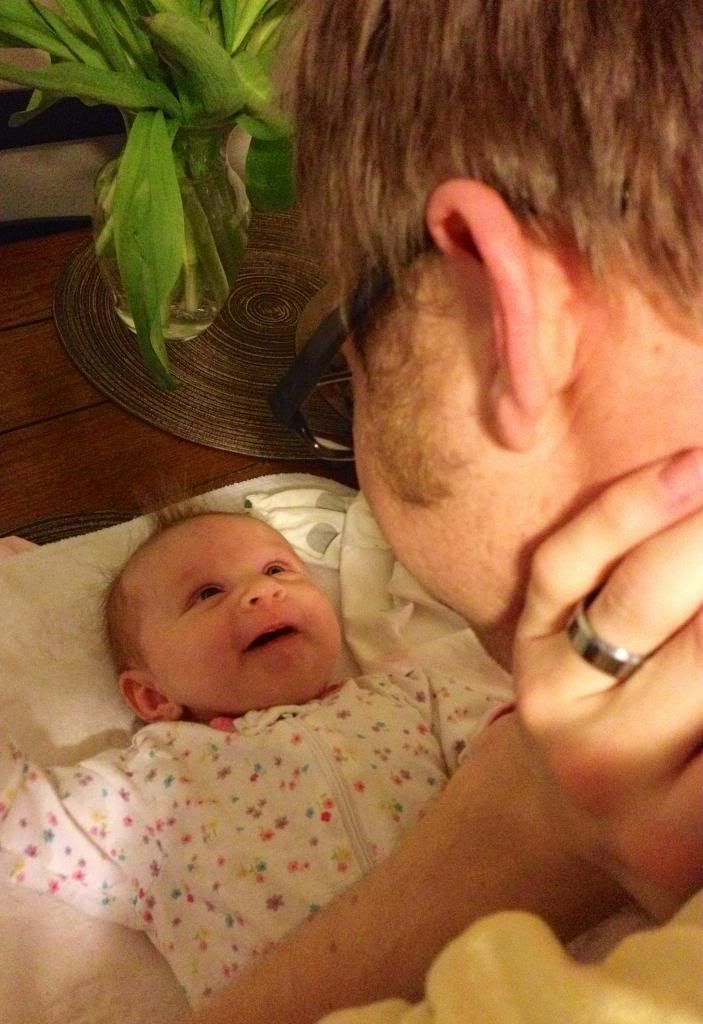 {Love your 1 on 1 Dad time}
{Snuggling with Mom}