Ok so I have been wanting to blog about Thanksgiving for a while now but I have just run out of time. I also need to do a 35 week update so everyone bear with me as I combine a lot of random happenings into one post.
Thanksgiving was so nice and relaxing. Spent some much needed time with family and Derek. I couldn't have asked for anything better. We spent Thanksgiving afternoon with my mom's side of the family enjoying quite the feast. I was loving the stuffing, sweet potatoes, french silk pie and rolls this year. I couldn't get enough. Meat still makes me pretty sick and I knew the turkey wouldn't sit well with my pregnant body so I just skipped it all together. However I still had a rough night and later learned the french silk pie was made with raw eggs. ha So much for my good efforts.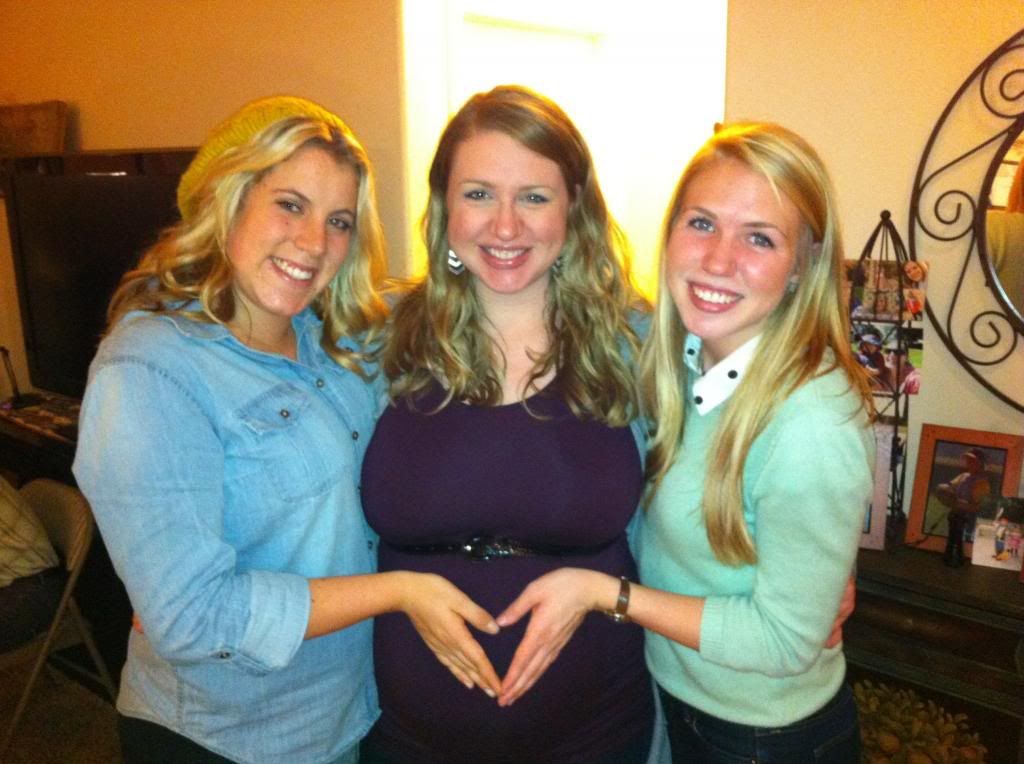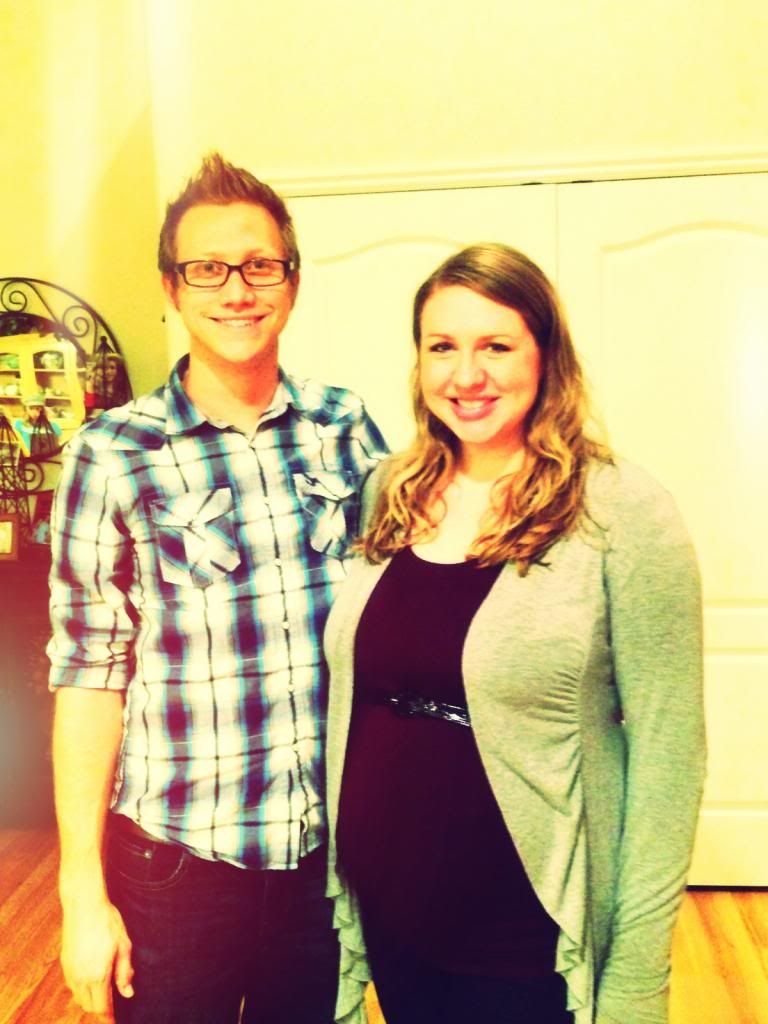 How cute are they? Love this picture.
My Aunt Carolynn and some of her girls. Love them!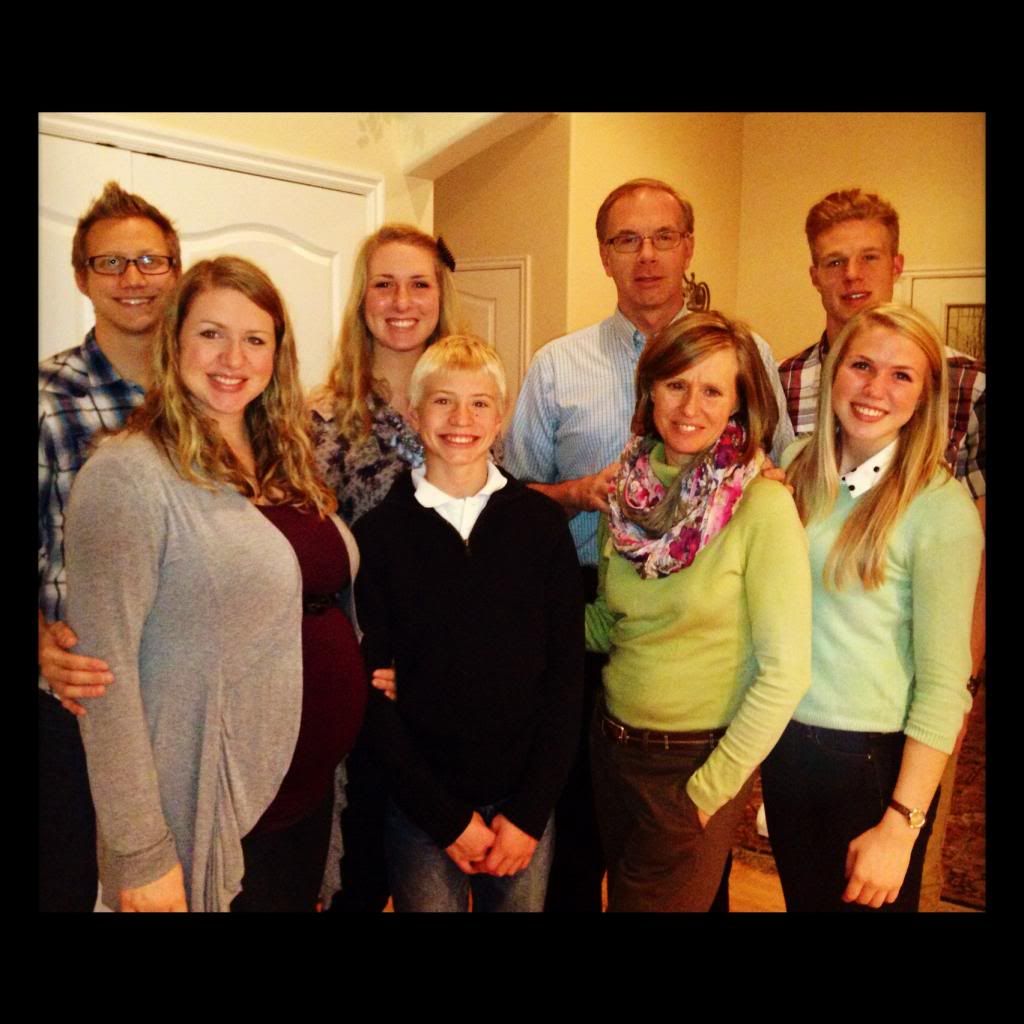 Almost family photo. Missing Scott, Kim, and kids. I also apologize for the weird edits my phone made to some of these photos.
Like this one? What happened to Stephen's face? So bummed. Anyways, siblings shot.
This weekend was AMAZING! We seriously had a blast and still didn't get to accomplish everything we wanted to. Highlight of the weekend was The Killers concert. I believe I mentioned that I purchased tickets for Derek's birthday. What a fun gift that I got to enjoy as well...ha We had a blast together. Went out to eat, then loved watching Tegan & Sara and The Killers perform, and then ended the night watching Elf. The show was awesome. The Killers are better live, if that's even possible, and the show they put on was so much fun. Tons of energy. So glad we got to do another fun thing before the babe comes.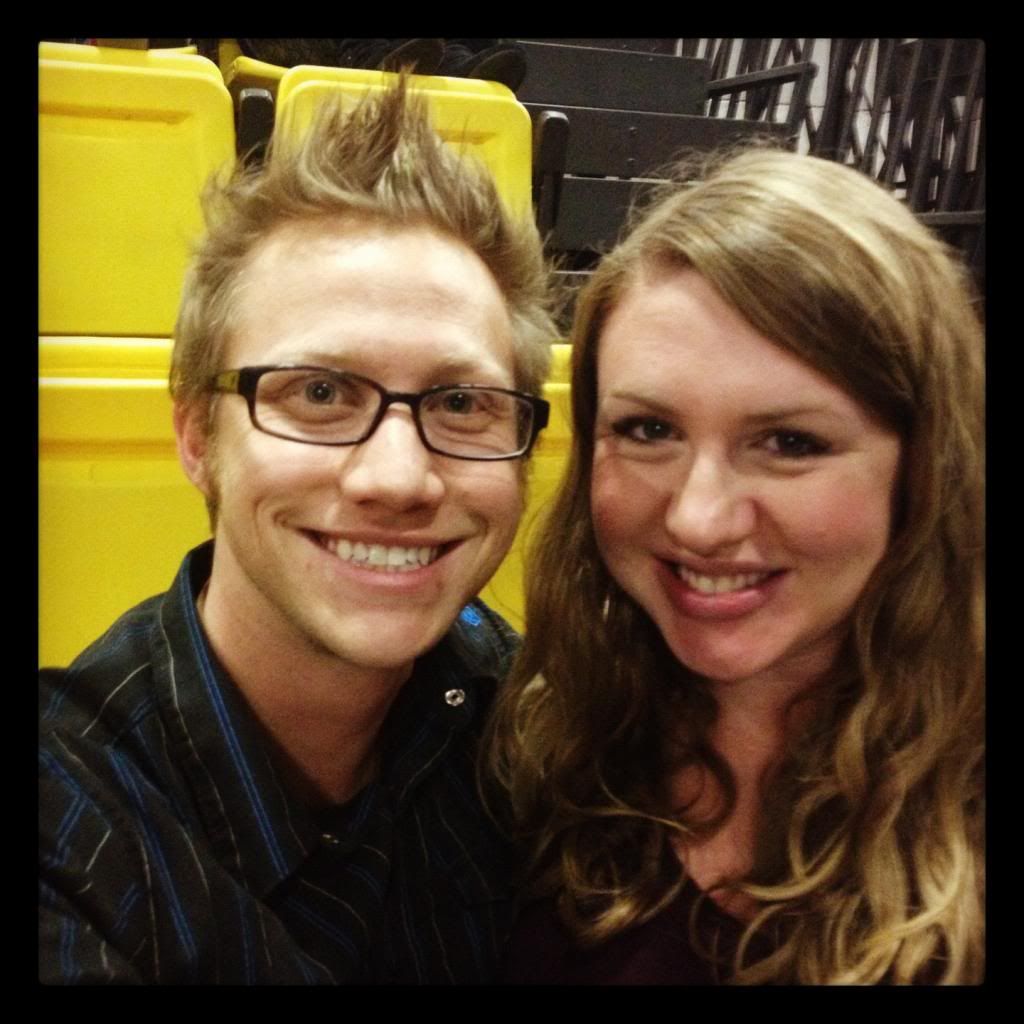 Waiting for the show to start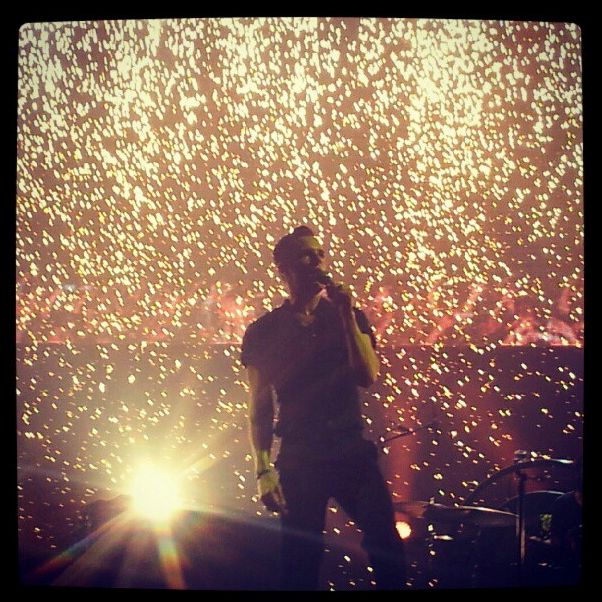 Love this shot! Loved this show!
Ok for a quick update on pregnancy.
How Far Along: 35 weeks, 4 days
Size of the Baby: Large...ha 5.5 pounds about
Weight gain/loss: Find out tomorrow. I am guessing I've put on another 2.5 pounds. Just lovely.
Sleep: hahaha
Best Moment of the Week: The Killers concert and feeling her moving around a ton. She's cute. Also yesterday my mom handed me a little pink dress that I used to wear as a baby. Can't wait for our little girl to wear something of her momma's. I love it. Thanks Mom!
Movement: Still moving around. I think I have finally figured out that she moves a normal amount and that makes me so happy. Love feeling her kick.
Symptoms: Is fatness a symptom? ha Swelling. My hands have gotten bad recently. It's weird.
Food Cravings: Sweet things much to my dismay. Discovered yesterday that my craving for cottage cheese has ended. I am sad about this one. It was a nice way to get some protein in my diet.
Gender: A cute baby girl
Belly Button - In or Out?: Weird but true...it's gone to being more in again.
Anything making you queasy or sick?: Lots of things.
Labor Signs: Not that I am aware of. A lot of Braxton Hicks but I hear that's pretty normal.
What I Miss: My body.
What I am looking forward to: Really tackling some of the things on our to do list these next couple of weeks. Today is December 3rd and I am due January 3rd. We are running out of time. Crazy.
Nursery: Skip.
Emotions: Just a lot of pure exhaustion. So I think because I am so tired and extra emotional I had another interesting experience at church on Sunday. There I am sitting and listening when my hands start to do their swelling thing and I just start to cry. At that moment I was so tired of being tired and fat that I just couldn't handle it anymore. I don't really cry much so these moments always catch me by surprise. I just wanted to laugh at myself.
Stupid things I have done: Nothing to report here. Feeling pretty good about that.