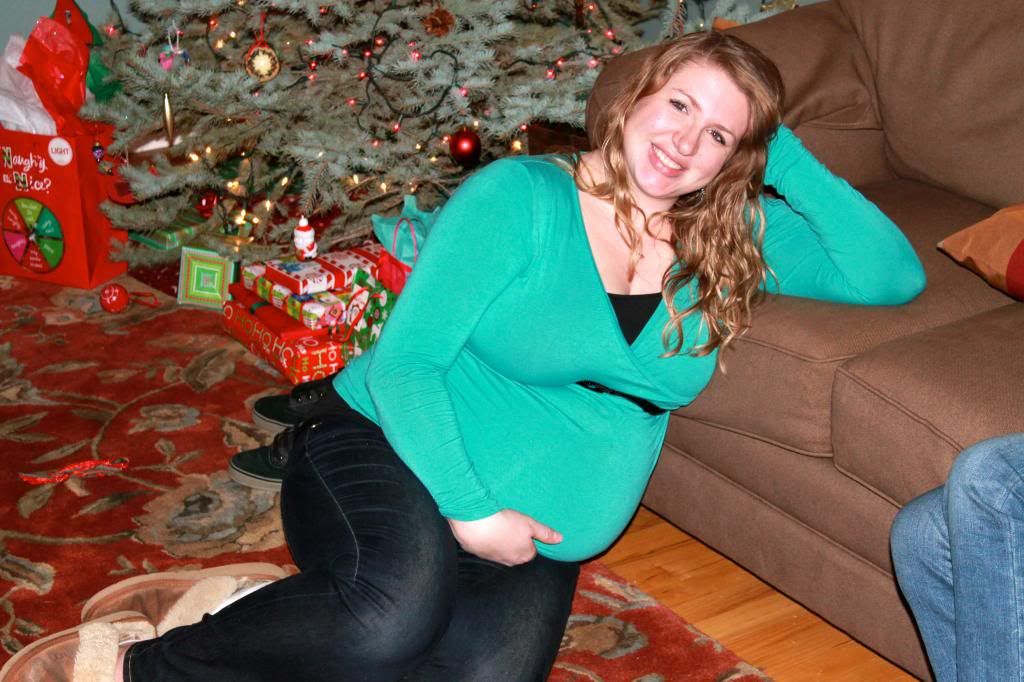 Taken on Christmas Eve. Belly is HUGE! 38 weeks, 4 days
How Far Along: 39 Weeks today. (I know I missed 37 and 38 weeks so this is a three in one.) Due date is one week from today! Crazy.
Size of the Baby: Somewhere around 7 pounds and 20 inches long
Weight gain/loss: This keeps fluctuating every week. Just depends on the time of day. Basically I have gained anywhere from 23-25 pounds through pregnancy. I just hope that I can keep it around there until she comes. Since Christmas is over this should help a little, right?
Sleep: I just laugh at some of the positions I end up in. Anything to get some sleep. My sleep has been accompanied by some crazy dreams this past week, mostly of going in to labor. (This was a couple of weeks ago.) As of now, sleep is really non-existent. Every part of my body aches from the mid-back down.
Best Moment of the Week: Getting to see our baby girl on an ultrasound last week. We haven't had an ultrasound in almost 20 weeks. It's nice to see her cute little head and to know she's 100% girl. The nurse was nice enough to re-assure me on that.
Movement: Still moving away. I am making sure to do kick counts as they are especially important during this time of pregnancy. Signs of her not moving is a sign of something bigger.
Symptoms: Heartburn. Some nausea. Lots of pain.
Food Cravings: Pizza. I smell it everywhere and it smells delicious. I finally caved and got a slice from Costco. It was just as delicious as I thought it would be. Worth it. Hey...the way I look at it is that I only bought a slice instead of a whole pizza.
Gender: Girl! Honestly, so happy to know she is 100% girl.
Anything making you queasy or sick?: Not getting enough water and letting myself get too hungry.
Labor Signs: Lots of cramping. Finally allowed the doctors to check me out today. I am currently 2 cm dilated and 70% effaced and her head is at a -1 which means she has started to descend. We'll see how things continue to go.
What I Miss: My ankle bones...ha Just so excited for her to get here. Excited and terrified.
What I am looking forward to: Seeing if I can get my body to labor more this week. Now that I am off my temporary resting period (all tests came back great) I can start walking more. I am hoping this will get my body ready to have a baby even more so. I still think she'll come late but I'll see what I can do. My guess...she'll come on the 4th or 7th.
Nursery: Clothes are washed. Mostly organized. Starting to pack my diaper bag. Going to pack the hospital bag tomorrow hopefully. Her pack n' play is officially set up and ready for her to sleep in. Excited about it. For now it's in our room.
Emotions:
A lot of crying. I can't even remember all the reasons right now. Tears just seem to flow more easily the past couple of weeks. (As Derek would say...I am a train wreck..ha)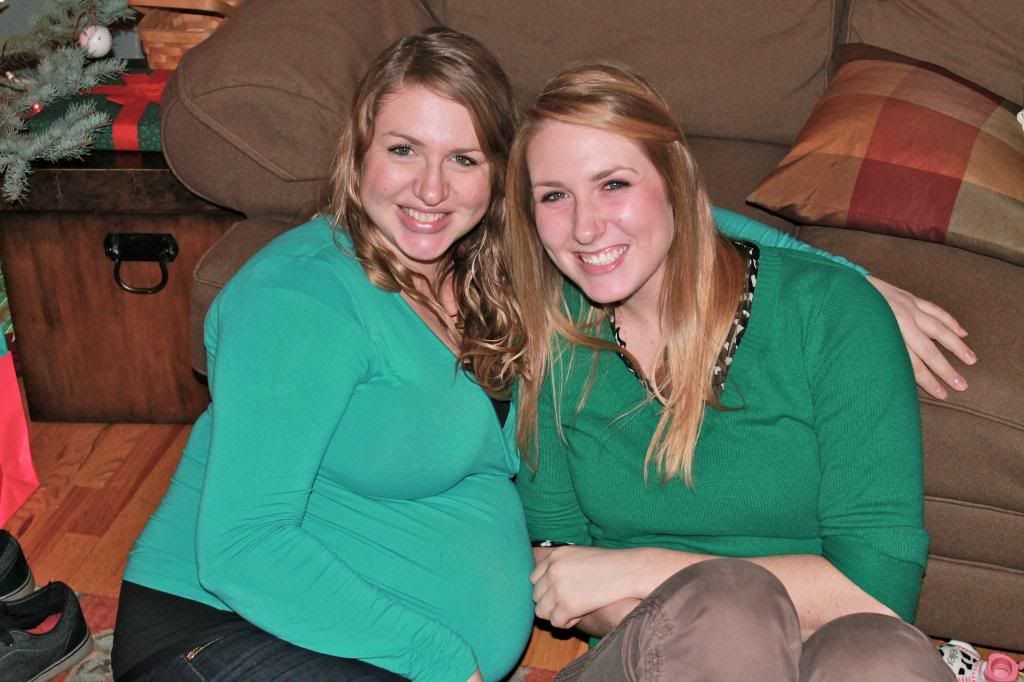 Ok really ginormous in this one. My waist is gone. Hopefully it'll return sometime in the near future.