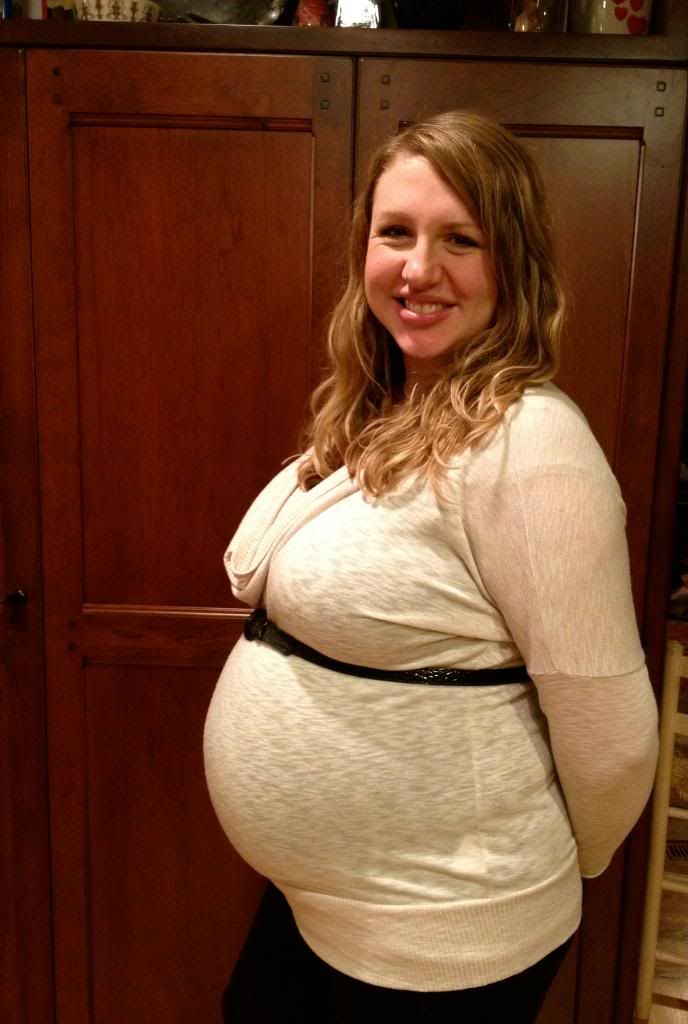 32 weeks, 2 days here
How Far Along: 32 weeks, 4 days
Size of the Baby: Almost 4 pounds and about 17 inches long
Weight gain/loss: 3.6 pounds in the last month bringing me to 12.6 pounds total
Sleep: It's gotten worse. Oh well. At least the trains are the least of my worries now. Any sleep advice for the 3rd trimester? I'll take any I can get. I wake up with the worst back and abdomen pain and I have to rotate multiple times throughout the night since my hips, legs, arms, and hands all start going numb. ha I am ready to buy a recliner and sleep sitting up. It might work out better.
Best Moment of the Week: My birthday and my baby shower. (More to come on these later) How could you not have an awesome week with those two things in the mix?
Movement: Lots of rolling and jabbing. I feel like the past couple days she has been moving more constantly. I am loving it. Only two other people have felt her move besides her parents - Samantha and Jamie. It's hard to get her to perform when people are looking for her movement. Anyways my sister Jamie got to feel her move Saturday morning. It was exciting. Our baby has such a personality already.
Symptoms: Back pain. Hip pain. Some Braxton Hicks contractions. They are kind of cool feeling.
Food Cravings: I just seem to be hungry more often. Loving bread and those cheeseburgers from McDonalds. The ones that come in the kids meals. They have just enough meat that they don't make me sick. I don't indulge on a regular basis but the 2 times I have allowed myself to eat it I have loved it. I do have healthy cravings as well but they are the regular: eggs, cottage cheese, milk. I am guessing I need the protein.
Gender: Girl. I wish I could get another ultrasound just to verify this. This baby girl has a lot of pink clothes...
Belly Button - In or Out?: Still in. With my appendectomy scar I am not sure if it will pop out. Also the other two scars i have on my stomach from that surgery are getting so weird. Something I would've never thought of previously.
Anything making you queasy or sick?: The smell of red meat cooking. The smell of onions. The mini fridge at work. I'll be grateful when my super sniffer dies down. ha
Labor Signs: Nope.
Wedding ring on or off: Off. My feet and hands are getting out of control these days. Even my flip flops are leaving marks on my feet. I have now resorted to wearing slippers out.
What I Miss: Sleeping on my back.
What I am looking forward to: Birthing class. They start this Wednesday. I have no idea what to expect but I am hoping that it will help my nerves and understand more of what I still need to prepare for.
Nursery: Our office is now becoming overly packed with clothes, diapers, wipes, pacifiers, etc. I don't know if we'll end up having room for a crib. We'll figure it out.
Emotions: Pretty good. If I allow myself to think about things too much I get nervous or stressed so I just try not to. Getting excited for when she'll be here and we can finally meet our baby girl.
Stupid things I have done: I had no option but wearing my flip flops out in the recent 3 day snow storm we had. They are the only shoes that kind of fit currently. Man my toes were freezing. I am on a mission to find some shoes this week.
I just have to share one cute thing. We got a car seat on Saturday and Derek couldn't have been more excited to figure out how it works and install it in our car. He did it right away and now it sits in our back seat. It's weird to have it there but makes me excited. Derek just loves to figure out how things work and wanted to make sure everything was safe for our baby girl. He is such a huge help and I know he'll continue to be throughout everything. Me and baby girl are very blessed.